Black Alumni Council (BAC)
Are you interested in joining the Black Alumni Council?
Doing so is as easy as filling out this Volunteer Form to ensure we have your correct email and mailing address. It's free to join.
We're planning virtual meetings for November 10, 2021, and March 9, 2022, and we are also planning an in-person event for Fall Alumni Weekend on Friday, November 19.
In addition to hosting reunions during Fall and Spring Alumni Weekends, Black Alumni Council members volunteer as mentors for accepted Black students to encourage them to enroll at the College and provide them with a support system once they arrive. We raise awareness and funds for the 1967 Legacy Program, which provides scholarships for students from underserved populations to attend the College. We also support other programs through the Office of Institutional Diversity, Admissions, and Multicultural Student Programs and Services. Please check back frequently to see what we are planning.
Upcoming Events:
– National Black Alumni Collective National Conference, April 28-May 1, 2022, in-person at Duke University (virtual conference option on March 12). Join us and hundreds of other Black alumni from universities and colleges across the country for the conferences. EARLY early-bird ticket sales open on Nov. 15: https://blackalumnicollective.org/2022-conference-rates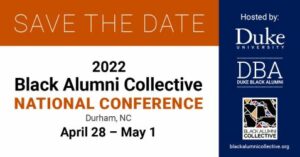 – BAC event during Spring Alumni Weekend, Friday, May 13 – Piazza Prowl: SAW 2022 – Piazza Prowl
Watch our meeting from April 28, 2021: BAC Meeting 4.28.21
Watch our meeting from August 11, 2021: BAC Meeting 8.11.21
Watch our meeting from November 10, 2021: BAC Meeting 11.10.21
Watch our meeting from March 9, 2022: BAC Meeting 3.9.22
Black Alumni Council Leadership
For any questions, please contact Meredith Chance '16, Director of CofC Clubs & Affinity Groups, at 843-953-6631 or chancem@cofc.edu.