Young Alumna or Alumnus Award
Celebrating our alumni leaders
This award recognizes an alumna or alumnus whose life has expressed the finest of College of Charleston traditions through service to his or her community or profession. The recipient's class year must be within the past ten years.
Submit a 2022 Alumni Awards Nomination »
2021 Young Alumnus Award
Adeyemi M. Oduwole '19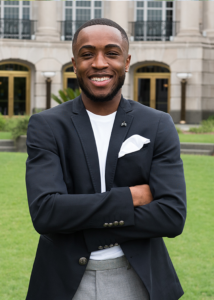 Born in Bronx, New York, Adeyemi "Yemi" Oduwole was raised in a Nigerian-American family who emphasized the importance of academics. After high school, he came to the College of Charleston and majored in biology. As an undergraduate, he collaborated with NASA during the solar eclipse in 2017, and was named a National Geographic Explorer by the National Geographic Society in 2018 to conduct research which analyzed the DNA of ancient African slaves found in Charleston and its relationship to African Americans living in Charleston today.
He frequently traveled to Nigeria with his family where he was exposed to the socioeconomic determinants of health. Understanding the disparities in healthcare gave him a passion for global health and biomedical research. As a student, he co-founded United African Students, was an Office of Admissions Student Ambassador, and served as SC Alliance for Minority Participation public relations chair. In 2019, he received the ExCEL Award for the School of Sciences and Mathematics Outstanding Student of the Year.
He continued his education at Icahn School of Medicine at Mount Sinai in New York City where he earned a Master of Public Health in 2021. Additionally, he worked with the NYC Department of Health and ContraCOVID NYC to ensure New Yorkers received access to resources during the pandemic. Presently, he is a post-baccalaureate student at Temple University in Philadelphia preparing for medical school.
Young Alumna or Alumnus Award Past Recipients
1989
1990
1991
1992
1993
1994
1995
1996
1997
1998
1999
2000
2001
2002
2003
2004
2005
2006
2007
2008
2009
2010
2011
2012
2013
2014
2015
2016
2017
2018
2019
2020
John F. Martin '82
W. Kurt Taylor '84
Maria Mansfield Richardson '84
Margaret Collins Frierson '85
Cynthia A. Pittman '91
Arlene Anderson Harrington '91
Erica Henderson Brown '93
Sheryl Snyder Matthews '93
Brian C. Rutenberg '87
Jackson Lee Davis, IV '90
Troy Guerard Knight '89 *
Stephanie S. Sheffield '93
Scott J. Buchanan '92 *
Wyndi M. Anderson '93
Scott A. Heavin '93
Anthony M. Johnson '97
Chesley K. Stetten '02
Keiron T. Kennedy '01
Stephanie Rice Jones '99
Nicholas C. Glover '05
Margaret Anne Florence '01
Carol Hannah Whitfield '07
Cyrus A. Buffum '06
Adam Paul '06
Stephanie Felder '04
Brett Gardner '05
Harriett E. Lee '08
Rebecca Shaw Whitener '06
Donald F. Schneider '12
Jerry Casselano '08
Shaun D. Kraisman '12
George Patrick McLeer Jr. '10
* Deceased