The Official CofC Traditions
Become a Traditions Keeper
History is alive here. It breathes with each step down the brick sidewalks and moves with the Spanish moss threaded through the live oaks in Cistern Yard. You become a part of the College's history when you step onto this campus. You are one of the lucky few to live the legacy.
CofC Traditions is available for iOS and Android.
The app contains 26 of the College's most interesting symbols of history, heritage, and school spirit. Simply read the College history, complete the Traditions by uploading photos, and share your completed traditions on Instagram, Facebook, or Twitter. To earn your Traditions Keeper medal upon graduation, complete at least 20 Traditions in the app then order your Traditions Keeper Medal from the Alumni Association.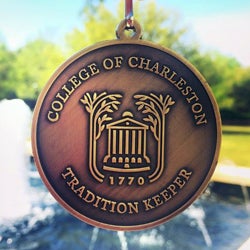 Questions? Contact Darren Callihan in the Alumni Office at callihandw@cofc.edu.
Sponsored by the College of Charleston Student Alumni Associates (SAA) and the Alumni Association.