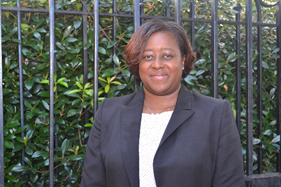 CofC alumna Tameka Pooser-Baker '00 of Columbia, SC, is the National Chapter Development Director for the National Association of African Americans in Human Resources (NAAAHR). In her current position, she provides a forum for minority HR practitioners to gain information and provide strategic leadership on management solutions affecting their careers and quality of work, while promoting the agenda of the HR profession. Her most recent experience consists of configuring SAP Human Capital Management (HCM) and the SuccessFactors HR Cloud Space, one of the top global solutions for HR practitioners.
Previously, Ms. Pooser-Baker has worked in both the private and public sectors for Honda Manufacturing, the State of South Carolina, Mars Petcare, and Compass Group Inc.
Almost 17 years ago, she began working in the judicial and HR area: court criminal law, clerical administration, employee relations, organizational effectiveness, HR systems, and general HR administration.
In her free time, Ms. Pooser-Baker volunteers with the National Association of African Americans in Human Resources and serves as a member of the Stop Bullying – Now! Advisory Board. Her hobbies include reading, writing poetry, listening to music, cooking, and light exercise.
Ms. Pooser-Baker found her passion after a sociology course sparked her interest in human behavior. While at the College, she was most impressed by the international diversity of the student population. "I loved how the professors invested in the learning and understanding of society," she said. "They made themselves readily available and spoke passionately to students about being a valuable contribution to current and future generations."  The classroom was where she learned how to analyze problems, value people, and apply data to real-life situations. She served as the Vice President of Membership in Zeta Phi Beta sorority. There, she learned the importance of mentorship and community service. She was also a member of the Gospel Choir. Ms. Pooser-Baker remembers her many relationships that changed her life: faculty, fellow students, and Charleston natives.
Vice President Tameka Pooser-Baker 00′ poses with fellow sisters of Zeta Phi Beta at one of the many functions hosted by their sorority in 1997
For current students, Ms. Pooser-Baker advises: "When you have a goal to be determined, pursue your dream and push past hardship. Build positive relationships and work through the challenges that life brings. Keep your faith and believe in yourself. Always look at a situation with a fresh perspective and be receptive to change."